Did this last weekend, I'm bored so now is a good chance to put some pictures up. Bought one of the iQue's that Eddie ordered and had used it a few times on my WSM before selling it, major problem for me was dragging the extension lead out to the smoker, OK, I'm lazy, so with that in mind and the news on the net that BBQ Guru were bringing out a battery powered system I set about creating my own.
Sat in my shed I had 2 batteries and a charger from an old Dewalt drill that no longer worked reliably, luckily there batteries whilst not great for drilling did seem to hold some kind of charge and also happened to be 12 volts which was the same as the iQue, I also had the US power supply supplied with the iQue
Battery,
12V
1.25Ah
Fast charger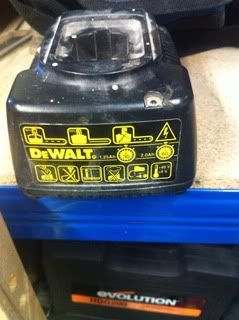 I cut the socket off of the US power supply and did some dodgy test wiring
Plugged in to the iQue and watched the system kick in to life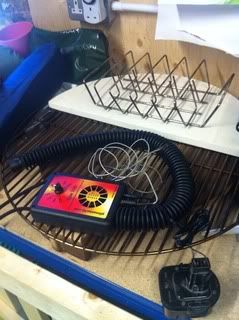 The fan spun in to life at warp speed and switched off, my heart sunk, 10 seconds past by and it started spinning again at a slower speed and just kept on spinning, I guess my shed was no where near the 225 set point.
I left it running like this and it managed 8 hours with the fan running 100% of the time, after the 8 hours the fan started to slow down but carried on running for another 8 hours, pretty impressive! I would predict under normal operating conditions where the fan is running constantly I could get 16 to 24 hours without worrying
I haven't gotten around to finishing the wiring and making it a little more professional looking but I now have a battery powered iQue that I will use when I get back to the UK next week, I can't wait.
Moderator

Joined: 19 May 2010, 19:25
Location: Sunny (sometimes) North Devon
---
Ingenius to say the least, something I might even try as I have an old drill , battery & charger.......
Moderator

Joined: 05 Aug 2011, 13:35
Location: Stevenage, Herts
---
Good idea, I think I'll be cleaning out my shed to find a couple of these today.

Well done.

Eddie
Rubbed and Ready

Joined: 08 Jan 2011, 02:40
Location: Ashford Kent
---
So JEC, have you tried a cook using this? If so how did it go????
Moderator

Joined: 05 Aug 2011, 13:35
Location: Stevenage, Herts
---
Funnily enough I've just set up at 8am a low and slow, I was already to use it but dialed the temperature in and the Egg just sat there, I'm leaving it o natural for now to see how it goes, I've got a 10# shoulder on so a good test of the eggs ability. Will use it next time though.
Moderator

Joined: 19 May 2010, 19:25
Location: Sunny (sometimes) North Devon
---
Used mine on my last two cooks (ribs - 5hours and brisket 11 hours) - have now worked out that it is much more successful at keeping the temperature if you let it bring the Kamado up to temperature rather than trying to bring it up to temperature yourself & then connecting up the IQ. Also for the low and slows, I have the top daisy wheel small vents only open a tiny crack. Dead happy with the purchase.
Rubbed and Ready

Joined: 25 Mar 2012, 14:00
Location: Berkshire
---
---
Who is online
Users browsing this forum: No registered users and 1 guest