Our local butcher also gets fish in to order once a week. Chatting with him last week, he mentioned some really good cray fish tails he had before. So I ordered two of them to do as a starter yesterday before our pork.
Each one was cut length-wise in half - they are quite meaty & I want to make sure that they cooked through. I also pulled the meat out of the shell before cooking, leaving the final little bit attached to the shell - really easy to do. It also meant I could get some of the dressing underneath the meat in the shell.
Not had them before so didn't want to much around with them too much in order to see what they tasted like - so just drizzled a little olive oil, lemon juice, salt & pepper just prior to cooking them on the grill.
Put them on for 3.5 minutes each side at 300F - but they needed an extra two minutes to cook through on the shell-side as they were quite chunky.
They were less flavour-some than lobster, maybe as a result of being frozen, but still very very nice. Loads of meat in comparison to lobster. My wife made a cheats Marie Rose sauce to have with them (mix a little tomato ketchup, mayo & paprika) which was lovely too.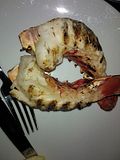 Last edited by
KamadoSimon
on 02 Apr 2012, 10:45, edited 3 times in total.
Rubbed and Ready

Joined: 25 Mar 2012, 14:00
Location: Berkshire
---
You lucky person, all I can get the those tiny little crayfish tails, I don't think that's much of a "cheats sauce" every recipe I've ever seen has had ketchup or tomato paste in it.
Moderator

Joined: 05 Aug 2011, 13:35
Location: Stevenage, Herts
---
---
Who is online
Users browsing this forum: No registered users and 1 guest