King Crab on the Kamado Joe
Posted:
25 Apr 2012, 08:59
Inspired by the last posting about cooking a Spider Crab on a BBQ (
viewtopic.php?f=34&t=1963
), we managed to get a live King Crab for cooking. Seriously big....! But we got a huge amount of meat from this guy - enough for two hungry people for a main meal plus all the brown meat & some white left over to do something else with at a later date.
So, after placing in the freezer for a while & then dispatching with a knife through the flaps on the underside, it was coated in a mixture of olive oil, lemon juice & parsley. Which didn't make any difference to the flavour at all!
We cooked the Focaccia first - 500-600F for 10 minutes or so. Then removed the baking stones, shut the vents up a little, placed the grill on & let the temperature fall to about 400-450F. Then on went the crab for 5 minutes each side.
Lesson for next time is remove the smaller legs from the body & cook these for much less time - whilst not a lot of meat in these, it is meant to be really flavour-some. Ours were way over-cooked & wasted. Fortunately the claws are so big that they were cooked at the same time as the main body.
After coming off the BBQ, using a tea towel because a) it was hot and b) these suckers have really sharp things on their legs, we removed legs & claws before cutting the body down the middle to get at the deadmen's fingers & the meat (see linked thread above). A meat mallet & strong knife made easy work of this even given the really strong shells. Another lesson would be to try & prise the top crab shell from the body in one whole next time - apparently this is fairly easy to do.
Deadmens' fingers are not poisonous - but they are not very nice to eat & given the job they do (filtering the water) may contain nasties. But they are really easy to spot & remove - this was our first time killing & eating a crab & we found it easy.
We had this with some marie rose sauce, a little salad & some home-cooked focaccia (and a cheeky glass or two of a decent white wine):
Focaccia prior to baking: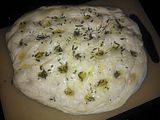 Focaccia after baking:
King Crab in plastic tub: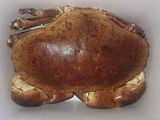 King Crab on chopping board ready to be cooked: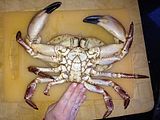 King crab claw versus hand: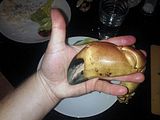 King Crab on Kamado Joe BBQ: