Blues smokehouse Bracknell
Posted:
20 Jun 2014, 11:16
So I have managed to go here twice now which I felt was required as although the food was excellent both time, the first time I went was with the family on a busy, sunny Sunday and the staff seemed a little overwhelmed.we were told it would be an hour wait for a table when I was standing in between two empty, unreserved tables. I pointed that out and we were seated pretty quickly by the manager. The second time there was a Saturday lunchtime and was a much better service experience - in fact it was perfect as I had the 3 kids by myself and the staff were more than helpful.
Most Importantly - the food I was very impressed with both visits and cannot wait to go back again. First time around I had ribs and hot links on a combo platter and my wife had a burger (kids had ribs and mac'n'cheese). Lovely flavour and texture and I was assured that the burger was good (but wasn't allowed to validate that for myself
). The Hot links had excellent flavour but I found the grind a little fine (personal preference here I guess) and they can always be bigger.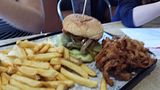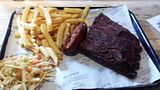 Second time around I went for ribs and brisket and again it was great. Great texture and flavour on both and the smoke came through.
A massive shout out for the sauces with the bourbon and cherry bbq sauce in particular - they need to get these on the shelves as I would buy that one by the gallon.