Mini WSM build complete!
Posted:
13 Aug 2012, 11:00
I put together my Mini WSM last week and seasoned it with brisket and wings but I didn't paint it until this weekend, so here goes my build...
Tamale pot from Amazon.com shipped to the UK, it was slightly out of round from the journey but nothing a little strategic pressure couldn't fix and it fits the Smokey Joe like it was meant to be. Ordered an extra Smokey Joe grate, an ebay thermometer from Korea and some stainless nuts and bolts.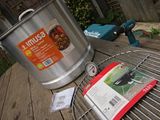 Drilled 20mm holes in the bottom with a step bit using the steamer plate for the template.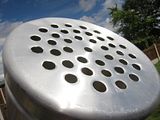 Added the thermometer & bolts for the grills.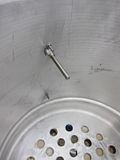 Put it all together.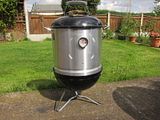 Full of lump and oak.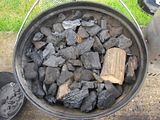 An unrolled brisket roast.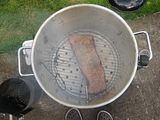 And a few test wings, rescued from the dogs dinner.
Cheap Korean thermometer seems to be doing well so far.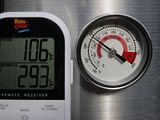 Snack time...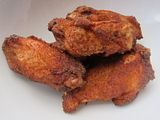 Newly painted with gloss black high-temperature paint and standing proudly next to his big brother.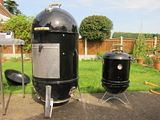 This time loaded up with two grills of wings - Soy/Sesame/Honey below, Butt Rub with added Chipotle powder on top.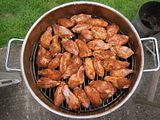 Chugging away, making me fatter.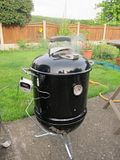 Family photo.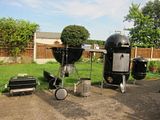 My guests ate the wings before I could take a photo.
Thanks for looking.
__________________
22 1/2" WSM, 22 1/2" OTG, WSJ x2, WGA, Outback gasser, Maverick ET-732, RED Thermapen