BBQ Rib of Beef
Posted:
26 Feb 2012, 20:54
I cooked this agin at the weekend and it was a big hit with everyone so i thought i'd share this, so if anyone wants to have a go they can as it was really good.
This recipe works best if you can setup your BBQ for indirect cooking although if you've got a smoker and a grill and don't mind using both it will also work.
The first thing you need to do is understand you meat.
If you look at this picture you'll notice that on the left hand side there is a vien of fat which devideds the beef. This is a very different peice of meat compaired to the centre so this needs to be treated differently.
The first thing you'll want to do is to score a grid pattern in this section of the beef, score it down to the fat layer. this will give you lovely little cubes of beef to snack on whilst you're carving the rest of the meat
Next you want to make paste out of the following ingerdients
4Tbsp olive oil
1Tbsp salt
1Tbsp pepper
1tsp dried thyme
1tsp dried rosemarie
1tsp onion powder
Then rub this into the meat & make sure you work this into the cuts that you made earlier.
Next job is to set your BBQ up for indirect cooking and then put you're meat on the BBQ but make sure it's on the side away from the coals.
Now that the meat is cooking you can get on and make the herb dressing for the beef, for this you'll need to mix:
1/2 Cup olive oil,
2 Tbsp Butter
1/2 shallot diced
2 cloves of garlic grated
1Tbsp fresh chopped Thyme
1Tbsp fresh chopped Rosemary
1Tbsp fresh chopped Parsley
Mix it all together and warm through to let all the flavours combine then put to one side.
Once you're beef has reached an internal temprature of 125f you'll want to then grill you're meat over the coals to sear the meat and get that nice finish to your beef.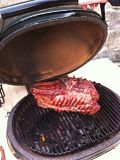 And keep fliping it onver to make sure each side is done normally leave them for 3-5 mins per side.
Finally take the meat off and let it rest before slicing, remeber to cut the cubed beef off first before you then slice the main peice of the meat and pour your dessing over it all just before you server.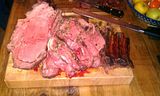 Enjoy