Yes it was good putting faces to names. Hope you all had a good time, we did. Good luck to those cooking again tomorrow
Got Wood!

Joined: 03 Aug 2012, 13:14
Location: Stevenage, Herts
---
I Today ate one of the best pieces of beef i have ever tasted (I have reared beef, i have sent them to slaughter, brought them home and eaten them.)
The smile on Harley's face when he ate some of Ed and Emma's beef was something to behold.
Thank you.
Si
Rubbed and Ready

Joined: 01 May 2012, 12:24
Location: North Somerset
---
me and the girlfriend had a dead good day, we proper pigged out. Spent £80 on food in the 4 hours we was there, shame we had to leave so soon but a 1 year old son back at home meant we couldnt stay all night. next year we're making a weekend of it.
Twisted Firestarter

Joined: 02 Mar 2013, 12:18
Location: Moira, Derbyshire
---
p.s. was good to meet you all
Twisted Firestarter

Joined: 02 Mar 2013, 12:18
Location: Moira, Derbyshire
---
Have had such an amazing day!!! Thank you so much to all the teams for being so friendly and teaching me so much today! Was great to meet so many of you. Hope we didn't interrupt too many turn in times!
Got Wood!

Joined: 17 Jul 2012, 13:08
---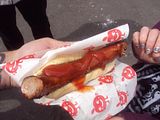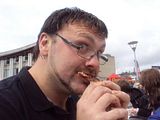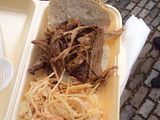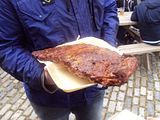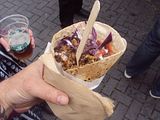 What an amazing day. amazing food and a load of ideas taken home with me about different grill nad smoker builds and all the amazing flavours has given me a burst of new ideas. if anyone who didnt go to this one i suggest (if you have time) you go to the manchester one. also take a lot of money. we was only there 4 hours and wme and my girlfriend spent £80 on food. was well worth it. and if i had more money or if i was drunk i would have been broke today with all the amazing kives and various other things that were for sale! Definately going back next year. i might even hold a store there.
Twisted Firestarter

Joined: 02 Mar 2013, 12:18
Location: Moira, Derbyshire
---
Glad you had fun, shame you had a fleece on it would have been interesting to read the tatts.
We had a ball, the atmosphere was better than last years and not just because of the better weather. We spoke to competitors, both old friends and new and quite a few of them were having problems with the wind. Due to the setup and location some teams faced very little breeze causing temperature problems others were nailing their gear down to stop it blowing away in the near hurricane but everyone seemed to be having fun.
There were more trade stands than last year and most were happy to chat even if it was obvious you were just browsing. I'm not sure where a slide guitar kit fits in with BBQ but maybe that was the music festival side of it.
Due to circumstances we only went for the Saturday but are debating, depending on the date & finances, to making it an overnighter again for next year.
As has been mentioned, we were able to put faces to names, even if some people weren't wearing the same "headgear" as in their Avatar
Crowdwise there were more people, lots more and it was interesting to watch the crowds rush from one team to another as the food was being taken to the judges. Last year IMHO the organisers made a mistake in collecting the extra food and doling out from their tent. This year my understanding is they encouraged teams to hand their extra out which made for a better atmosphere (and mobile picnic).
Congratulations to the teams that were placed, commiserations to those that weren't
Moderator

Joined: 05 Aug 2011, 13:35
Location: Stevenage, Herts
---
Just back from Bristol... had a great time at Grillstock. Folks seemed genuinely interested in the comp areas which was good to see. Everybody was super friendly and the wife and I enjoyed ourselves and will definitely be back next year.
It was good to taste the samples from the comp teams. Glad to know I'm not too far behind their high standards!
Got Wood!

Joined: 16 Sep 2012, 21:44
---
Hi All
Must be close to final result time?
Si
Rubbed and Ready

Joined: 01 May 2012, 12:24
Location: North Somerset
---
The Grillstock twitter feed has/is announcing winners. So well done to those involved..I'm gutted I could not be there.

Edit:

1st place for ribs: @BBQGuru
Brisket winners: @BackyardBrummie
Spirit of BBQ winners: @DrSweetsmokeBBQ
Dessert winners: @SocialSmokersUK
Chicken winners: Bunch o' Swines
Pulled pork winners: it's a tie! Smoking penguin and bunch o swines.



Will be there in 2014.
Got Wood!

Joined: 22 Mar 2010, 14:00
Location: Letchworth, Hertfordshire.
---
---
Who is online
Users browsing this forum: No registered users and 2 guests